Sony PlayStation VR is so immersive and social that it gives you an out of the world virtual reality experience that is so true to life and enjoyable for different age groups
We got hands on with three of their newer virtual reality games here at GameStart 2015 in Singapore.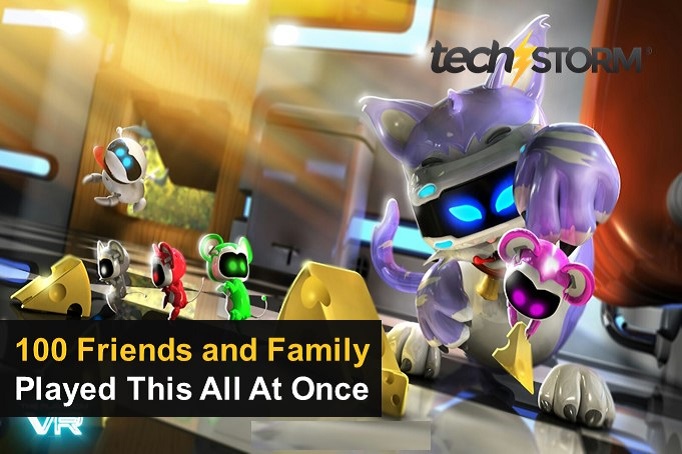 PlayStation 4 is a truly remarkable console engineering that produced the very best of graphics and gameplay experience. Though in its maiden years, consumers were pretty much confused of the LED display and its function that was integrated into the DualShock 4 controller. With consumer's feedbacks fills in, Sony was pretty quick in responding with the announcement of an integrated virtual reality system with the console that serves as the true function of the LED on the DualShock 4 controller.
'Project Morpheus'
or PlayStation VR which was officially announced at 2014 Game Developer
Conference held in California, United States introduces console player to a
whole new social and realistic gameplay experience. Knowing such features are
hard to resist, we managed to clock in a few minutes of demo session testing
out the system's functions at Sony's booth at GameStart 2015 in Singapore featuring
games such as 'The Deep', 'London Heist' and 'Summer Lesson'.
The
pros

Comfort guaranteed
You may wonder how
the VR set may affect your comfortability since the prototype are pretty bulky
in shape. Well fear not, the gear rests well on your head without affecting
your movements. Pretty sure it will be a plus point in your comfort zone while
gaming. On the other hand, the weight which was pretty light for a bulky
prototype does caught us off guard and for users with spectacles, the VR set fits
comfortably even with your spectacles on.
Innovative and surreal gameplay experience
Thankfully we were
served with five games during the convention that's playable with the PlayStation
4 VR system such as The Playroom VR and Summer Lesson. The Summer Lesson game
which players takes on the role of a Japanese language teacher assisting a
gorgeous blonde protégé in her effort to pick up the language. Using the VR to
navigate with our head movements towards the right answer in the game, the
feeling was almost in a reality as you may retract your head once your student
sits closer to you. Feels good to have a beautiful companion at your side right.
Superiority in graphics and technical
PlayStation 4
owners may be familiar with The Playroom which was included as a free game
during the release of the console. Playable using the PlayStation Camera with
30 fps (frames per second), the game was truly visionary to a console system
and with its addition to the list of PlayStation VR supported games, PlayRoom
was extremely breath taking especially when it's played on 60fps. Our
experience with this game and its integration with the VR was mesmerizing given
the graphics and visual the next gen system has to offer.
The cons
TLC required
Unfortunately, the
VR seems rather fragile and needs to be handle with extreme caution. That been
said, you may want to look out for the front part which houses the display
lens. It may result in a malfunction in the system's display. And trust us,
with the rumoured price tag to be at US$399, it will be a tricky process to
maintain the mounted display for a long period especially when used excessively.

More on the way
Since this is the
first time PlayStation VR demo was displayed in South East Asia, we were pretty
excited to learn and dissect more on this system. However, Sony still remained
tight lipped on the release date and price range. Playable demo's on the VR was
limited and we were unable to push the VR to its core limits which means we won't
be too sure if this would be a worthy investment and addition to your PlayStation
arsenal.
To get your hands on
experience on Sony PlayStation VR, do visit GameStart 2015 happening at the
Suntec Convention Centre from the 13
th till 15th
November.
By Ashok Krishnan /
November 13, 2015 7:55PM GMT+8
Disclaimer: The
above images and trademarks are the sole and exclusive properties of their
respective owners and are reproduced herein for the purpose of fair criticism
and review.