Plans are in full gear to build Singapore as a SMART Nation

Aside from just strategically positioning
Singapore as a SMART Nation test-bed, the vision of a fully integrated SMART
Nation is set to come alive sooner than you might think. The future of building
Singapore as a SMART Nation is seen as a possible solution to pressing
first-world issues that could possibly hamper growth at a national level. These
issues include, transport, health care and ageing population. In iDA's
industrial brief earlier this morning, this notion of being a SMART Nation is
no longer just a plan on paper, but detailed plans that are already in motion.
Here are just some really nifty features
that some arms of the government in Singapore have introduced or are set to
introduce to embrace SMART Nation:
National
Parks Board (NPB)


If you ever have a plant or insect you see
while on a trek or walk in Singapore and want to know its name and other
details, all you need is the SGBioAtlas mobile app! This is a crowd-sourced
information app that maps out the distribution of flora and fauna throughout
Singapore. All uploaded sighting to this app gets updated on the online
database – BIOME. This way you not only get to learn about the animals and
plants at our parks but also get to contribute to the database of biodiversity
sightings.
National
Library Board (NLB)

A library that is not only going digital
but trying to expand its reach to everyone. Imagine this, in the next couple of
years going to the library is not going to like what it is now. The experience
of going to a library will no longer just be the same. NLB might just be the
one that has introduced most changes to its operations and infrastructure as
they embrace SMART Nation, this changes include:
1. A mobile application that will give you
book recommendations depending on your personal likes, gender and age.
2. You are now able to borrow eBooks. Good
thing about this is that, there is no need to return the borrowed eBook – So no
overdue charges!
3. Collecting you reserved book will be
more convenient now, especially if you are busy and are not able to reach the
library before closing time. There will be more 24/7 self-collection post boxes
located outside the main library for those who have reserved their books.
4. The NLB is looking at robotics to help
organise books back to their assigned locations.
myResponder
By The Singapore Civil Defence Force (SCDF)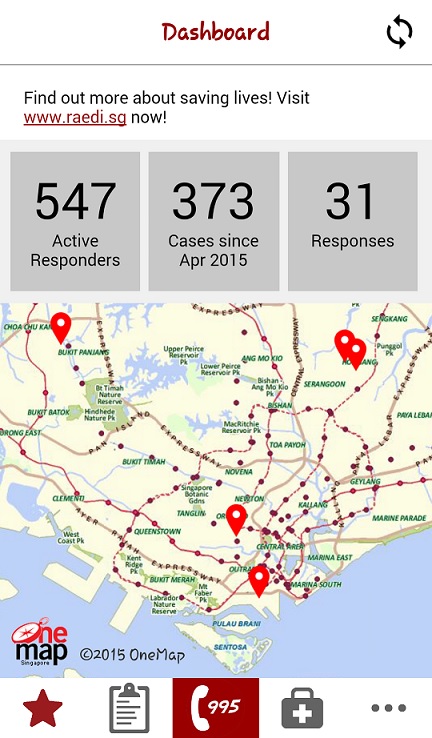 This is a lifesaving mobile application from
the SCDF to organise, train and mobilise the community to respond to cardiac
arrest cases within their current vicinity. With this app, CPR trained members
of the public who are within the vicinity of the victim are able to reach the
cardiac arrest victim while waiting for the ambulance or medics to arrive. In
addition, this app will notify you of AED's available nearby. This is extremely
important in cardiac arrest cases as survival rates are extremely low at an
approximate 2.8%.
****
With all the infrastructures and base for a
SMART Nation building up slowly but surely, Singapore is set to lead the world
in cutting-edge SMART Nation technology free from traction as well as providing
solutions for pressing first-world issues.
By Geralyne Kaye Ong / May 27, 2015 6:55PM GMT+8
Disclaimer: The above images and trademarks are the sole and
exclusive properties of their respective owners and are reproduced herein for
the purpose of fair criticism and review.