Lift heavy weights without actually feeling the weight of it
with this shiny invention, guaranteed to make even Tony Stark a little jealous

Iron Man can lift objects that weigh about a ton, swing it
around without batting an eyelid while battling his nemesis thanks to his
robotic suit. Soon, that could be a reality for all of us – well, sort of.
Dr Homayoon Kazerooni, Professor of Mechanical Engineering
and Director of the Berkeley Robotics and Human Engineering Laboratory,
University of California Berkeley, is at the forefront of developing
exoskeletons, which will allow us all to do all that and much more.
Dr Kazerooni's exoskeleton inventions are not just for the
physically handicapped, but have uses in the construction or logistical sector
as well. These exoskeletons will allow its user to easily lift weights of up to
91kg (200 pounds) safely without hurting their back.
We managed to catch up with Dr Kazerooni to ask him about
his passion and drive for inventing these exoskeletons, when he attended the
Emtech Asia 2016. This annual conference gathers the greatest minds of both the
technology and medical world to share their valuable insights and was held from
26-27 January.
TS: Tell us from the
beginning, what triggered you to get started on your current invention or
innovation?

HK: My research is about the design of exoskeletons systems
in two populations. One for people with mobility disorders and the other set of
exoskeletons are for people who work at construction sites, ship yards and et
cetera.
So during my research, I realise that there is a potential
for consumers to use this technology. Shortly after, I set up my own company to
bring this technology to end users. My motivation is to bring technology to
people so that they can have a better quality of life. In short, I want to
create a better quality of life for workers and for those with mobility issues,
so that they are not confined to wheelchairs all the time.
TS: How long did you
take before you had your first prototype?

HK: We managed to create our first working prototype in
about five years. There are many methods for research and development, for us we
don't sit down and do a lot of analysis continuously. We start attacking the
riskiest problem first, perform some analysis, then construct a small prototype
to see the validity of the concept, and repeat that process.
TS: What was the one
biggest challenge or roadblock you have faced in this process?

HK: Certainly there have been many challenges and each time
they bring their own difficulties. We always look for funding to do our
research for funding is always limited, so that is the number one roadblock.
Number two, which is the challenge that we are currently
having, to make sure that we get the FDA approval to sell our technology to
people with mobility disorders.
Number three would be technological challenges. We have to
make sure our technology is accessible, that means having to use the right
technology, right sensors and to have it manufactured at the right place. All
these technological challenges manifest into the bottom cost for the end user. Lastly,
we also have challenges on the sales and marketing front. We want to make sure
that these devices are introduced to the end users properly with accurate
information.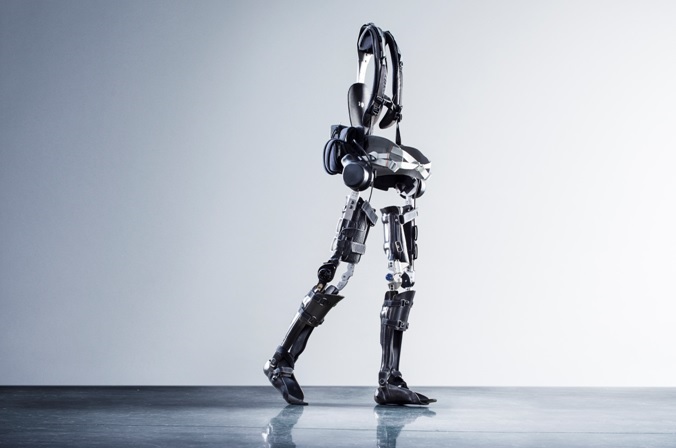 TS: Looking back,
would you have done anything differently, and what might that be?

HK: Good question, have never really thought about it. Well,
I gave a lot of chances and thoughts to many technologies so that I can use
them, but eventually I never did. Reason being that as we conduct experiments, we
found out that it was not appropriate technology. So if I could do it again I
would make the decision quickly to dismiss those technologies that I don't
think would work.
TS: What has been the
one greatest satisfaction working on this development so far?

HK: That is a really good thing to ask me because our device
is really helping people. So my satisfaction is whenever I see someone with mobility
issue walking with our device, I feel very satisfied.
TS: Name one
compelling consumer use case for your invention.

HK: I would say that we have an amazing device for
construction workers that helps reduce injury by 60%. After safety glasses and helmets,
this is a device that can be used internationally by anyone.
TS: With reference to
SuitX, how do you think it would disrupt our lives and change the world?

HK: We want SuitX to become the largest international bionics
company. As workers around the world put their body up for abuse, we believe
that SuitX can be able to reduce the risk of injuries to their workers. This in
turn brings about a substantial amount of benefits to their employers,
insurance companies and more importantly the quality of life for the users. We
are not trying to replace workers with robots, but to create devices so that
people remain healthy.
TS: In one sentence,
describe what you think life in 2030 would be like.

HK: Technology is changing so fast, I can't really predict
it. Honestly, anything I predict will be difficult because things are moving so
fast, things that I thought was impossible is possible now.
However, I can say with some degree of certainty that 5
years from now, any problems that are currently in my head will be solved. In
terms of just exoskeleton systems I think most of them will be resolved and
most people will use them in their homes.
By Geralyne Kaye / 2 February, 2015 11:00AM
GMT+8 Singapore
Disclaimer: The above images and trademarks
are the sole and exclusive properties of their respective owners and are
reproduced herein for the purpose of fair criticism and review.