It's been a bloodbath of a week for crypto traders but here's a silver lining: a report from Chainalysis said transactions on the NFT front were stabilising this year.
According to the report, which was published ahead of Chainalysis' inaugural State of Web3 Report coming out next month, estimates that collectors have spent over US$37 billion on NFT marketplaces this year alone, on track to beat the total of US$40 billion sent in 2021.
The blockchain data platform said while transaction activity was largely flat, there were two big spikes: once in August 2021, which was likely driven by the release of the Mutant Ape Yacht Club collection and another early this year, from late January to early February, driven by the launch of the LooksRare NFT marketplace.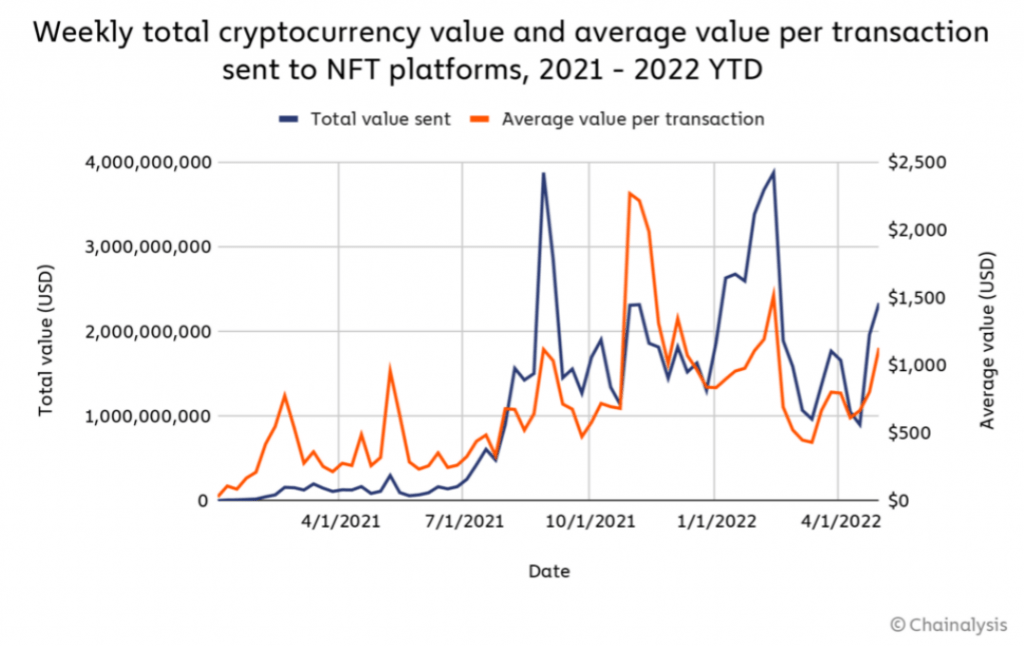 Transaction activity slowed significantly after February, from US$3.9 billion in the week of 13 February to just under a billion (US$964 million) in the week of 13 March – the lowest weekly level since 1 August, 2021.
Ethan McMahon is an Economist with Chainalysis and told TechStorm the reasons for the fluctuations in NFT purchases was because "volatility is particularly pronounced in NFTs because the market is less mature and therefore more susceptible to shifts in user sentiment. We are also in the midst of a slowdown in the broader crypto markets so it stands to reason that NFT markets have also been hampered by plunging prices in cryptocurrencies."
Some believe NFTs are currently in a bear market.
NonFungible's Quarterly NFT Market Report for the first three months of this year estimated that the number of overall sales have dropped by over 46% – about 7 million.
At the same time, the number of buyers have also slumped by 30% to just over 1.2 million.
Despite a smaller buying pool, the volume of US dollar traded increased by 13% to US$16.4 billion – that's largely because of the increase in the price of NFTs between the last quarter of 2021 and the first quarter of this year.
NonFungible's report also estimated that the Bored Ape Yacht Club is now the most active project of 2022, with over US$1.2 billion traded in the first quarter of this year alone.
Ethan explains: "A reason for a lack of activity in some collections can be attributed to the mere fact that people don't know those collections exist. Additionally, from the artist's or creator's perspective, it's important to distinguish one's pieces from the rest of what's available, whether that's through utilising NFTs in a novel way or artist's pieces being more appealing than what already exists."
NFT collectors also have to cope with fluctuating Ethereum prices and gas fees, which in turn could push prices higher.
Just last month, Yuga Labs – the collective behind the Bored Ape Yacht Club – launched metaverse NFTs and according to Quartz, demand was so high at least one user shelled out an estimated US$45,000 on gas fees for a US$6,000 NFT.
And for those looking to take advantage of the dip in the cryptocurrency market and invest in NFTs, Ethan has this advice: "Investors can be conscious of the type of NFTs they invest in. A collection that offers little more than hype will likely only exacerbate market volatility. On the other hand, an NFT offering membership into a group with a serious mission or an NFT used as an asset within a blockchain-based ame has broad utility."
*Featured image from OpenSea
By Samantha Chan \ 10:30, 19 May 2022