KartRider Rush+, the hit mobile racing game from publisher Nexon, is back with an all-new esports tournament: the Race Master SEA Tournament: Asian Champions Cup Qualifier. Registration for teams begins 1 Nov and runs through 7 Nov, 2021. Players can enter to win cash prizes and rare in-game items; the first-place team will go on to represent Southeast Asia in the Asian Champions Cup in 2022.
​​Following the overwhelming response to the Race Master: SEA Tournament 2021, the Southeast Asia tournament has been scaled up to include all of Asia. In anticipation of the tournament expansion, the fifth and sixth Race Master tournaments announced at the beginning of 2021 will now be merged to become the Race Master: Asian Champions Cup Qualifier (A.C.C. Qualifier) – making this the fifth and last tournament of 2021.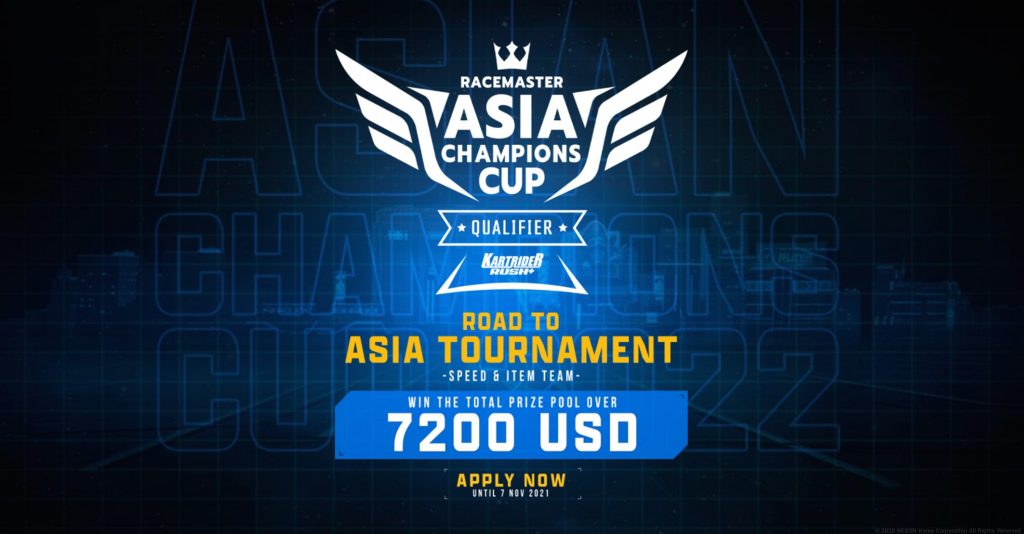 The top four finishers will take home $7,200 (USD) in combined rewards, plus special in-game items. Prizes include:
· First place: $2,000 and an in-game Race Master Badge, Title and Balloon
· Second place: $1,000 and an in-game Balloon
· Third place: $600 and an in-game Balloon
· Fourth place: $400 and an in-game Balloon
The first-place team will also be awarded the title of Representative of the SEA Region and qualify for the Asian Champions Cup 2022 tournament. Additionally, all racers who finish in the top 16 teams will receive in-game rewards, a Silver Gear Starter and a 1,000 K-Coin.
Interested players can review the tournament rules and register HERE. Fans can follow the KartRider Rush+ Facebook Page or visit the webpage for the latest updates, tournament applications, livestreams and results.
About NEXON Co. Ltd.
NEXON Co., Ltd. ("Nexon") is a worldwide leader in free-to-play online and mobile games. Founded in Korea in 1994, Nexon currently services nearly 100 titles in more than 190 countries. The Company is now headquartered in Tokyo, Japan and its shares are listed on the Tokyo Stock Exchange.