Rounding up some of Singapore's best tech entrepreneurs both old and new

Wealth aside, Jack Ma gets
plenty of mileage in the media because his story has plenty of ingredients that
appeal to us – his documented failures resonate with our own, and his
subsequent success is a beacon of hope for those who are weathering the storm
of entrepreneurship. But we need not look so far north to be inspired. Closer
to home – home in fact – Singapore is blessed with many entrepreneurs who
endured the same pain to become giants and pioneers in their own right.
"The Pioneer Generation" – Sim Wong
Hoo (Creative Technology)
We always speak fondly of
the "pioneer generation" of Singaporeans, and for the same reason of
sentimentality, there will always be a space here for Sim Wong Hoo, who proved
to us that a little tiny island can make its mark on the world.
Sim's journey to the top was
a near-fairy tale success story. The Sound Blaster was the must-have expansion
sound card for the PC, and Sim soon became the youngest billionaire in
Singapore. Creative even tussled with Apple for supremacy in the portable music
player market, and put Singapore on the world stage of consumer tech.
However, recent years have
not been kind to Creative, and observers are largely of the opinion that
Creative's technology was bested by Apple's marketing. Recent financial reports
have not been positive as well. The recent, highly acclaimed Roar portable
speaker, however, was a distinct silver lining, and could point the company
back into the big leagues.
Could the man also famous for coining the phrase NUTS (No U-Turn Syndrome) to describe our culture
of compliance lead Creative into an epic U-turn of its fortunes?.
Building
the Church of Razer –
Tan Min-Liang (Razer)
Razer made a reputation for
itself as a cutting-edge gaming accessory company, and like Apple, has created
a loyal global following.
Tan Min-Liang, like Sim Wong
Hoo before him, is a candid and outspoken personality. Tan has famously said in
interviews that Razer makes products for themselves; gear that they wanted but
weren't on the market, and have lost money in the process.
Tan's fearlessness in
developing products to answer a need or a want in the market (as they see it) explains
why Razer's latest developments are unlike what any conventional gaming
peripherals company would do: they've released a gaming laptop (Razer Blade)
and tablet (Razer Edge); they're taking the plunge into wearable tech (Razer
Nabu), and they've recently created their own open source VR Glasses (Razer
OSVR). Few, if any, companies are willing to risk their R&D budgets on
risky products – but it has won Razer a reputation as an exciting company
that's willing take a chance developing mouth-watering gear.
Tan has lost none of his
boldness since he started Razer with Robert Krakoff in 1998, and he doesn't
look like stopping anytime soon either.
Not a Flash in the Pan – Henn Tan
(Trek 2000 International)
Henn Tan acquired first-hand
experience of intellectual property hell after his company, Trek 2000
International, debuted a flash drive solution at CeBIT in 2000 and soon found
hordes of copycats. In interviews with the media on the subject, he conceded
that he had been naive back then.
In the years ensuing there
were many claims over who invented the flash drive, with several parties – Trek
2000 included – producing their own patents. But Henn Tan showed that he'd
learnt from his experience and got in the last word, as well as some manner of
revenge: in 2010 Trek successfully trademarked the term "ThumbDrive", ensuring
that only a Trek-branded flash drive can be called a ThumbDrive.
The experience has also gone
some way in shaping his philosophy with regards to Intellectual Property. Trek
filed its first patent for the flash drive in 2000, which was granted in 2002,
and to date the company has been granted 436 patents.
In recent years, Trek
returned to public prominence with the Flucard, a Wi-Fi enabled SD card
solution that functions as a server and allows you to share and transfer files
between your camera and other Wi-Fi or Flucard enabled devices. Tan also
recognised the need to work with the right partners, and has a key partnership
with Toshiba, who market the Flucard standard under their own branding, called
FlashAir.
Trek is also collaborating
with Panasonic on Cloudstringers, a cloud-based ecosystem built around the
Flucard that allows secure and high speed transmission of broadcast footage.
Their recent contracts (US$75m total) with toymakers Rely/Mattel to supply
proprietary Wi-Fi memory modules for interactive toys is also indicative of their
capabilities in enabling IoT applications.
With the benefit of a
complete IP strategy as well as technological innovation honed by years of
experience, we can expect to see more of Henn and his team in the years to
come.
Think Small, Dream Big – Ryan Lee (X-mini)
A self-proclaimed 'dreamer',
the concept of pragmatism is however not alien to Ryan Lee. The first product
that X-mini made did not go on sale in Singapore because he did not have the
romantic notion that it had to first make an impact on home soil. The company
judged correctly that the local market alone was far too small to be conducive
for the growth of X-mini products.
X-mini specialises in tiny
speakers that produce a big sound, and have proven to be a hit all over the
world. After an initial success, Lee was then brought down to earth with every
entrepreneur's nightmare: his idea was stolen, replicated, and was sold cheap.
Even if the copies weren't up to scratch, damage to the brand's image had been
done.
But unlike Henn Tan of Trek
2000 and despite holding the requisite patents, Lee made the call that lawsuits
weren't productive in his circumstances, and the money and time required was
better off spent on designing new products to stay ahead of copies, and on
alternative means of protecting intellectual property – securing key employees'
loyalties and committing them to the company, as well as manufacturing key
components themselves.
In recent years, the rising
popularity of large wireless speakers meant that X-mini was in danger of
falling behind the curve. It has since responded with the well-received X-mini
Clear portable speaker. Its large size is a clear break from their usual mould
of small sized speakers, and hints at future with a slightly different
direction. It just goes to show that Lee is fully aware of what needs to be
done to keep the dream alive.
The Serial Entrepreneur #1 – Roger
Yuen (Clozette)
Roger Yuen has all the
hallmarks of a successful serial entrepreneur, including an uncanny ability to,
figuratively speaking, connect the dots with his ventures.
Yuen has a storied career in
digital media and tech – which includes senior executive management positions
in Softbank Forums, CNET Networks, and Acer, just to name a few. You would not
have expected Yuen to be a founder and CEO of Clozette: a visually driven,
social shopping fashion network.
But yet it's his experience
in the digital domain that makes Clozette tick. By forming savvy partnerships,
Clozette provides localised content in six countries: Japan, Taiwan,
Philippines, Indonesia, Malaysia, and Singapore. It also handles online
advertising sales for E! Online in South East Asia.
Yuen, a serial entrepreneur
was also a co-founder of e-Cop, which pioneered the concept of 24/7 Managed
Security Services, and was a seed investor and board member of Brandtology, an innovator
in social media and online brand intelligence. He also co-founded ViSenze, an
up-and-coming startup that develops intelligent visual tools to enable visual
recognition and search, complete with matching and recommendation capabilities.
It was designed for e-commerce and contextual advertising applications across
web and mobile platforms.
Clozette and Rakuten (who is
also a Clozette partner) have partnered with ViSenze to enable shoppers to
search for matching fashion items with just a picture upload. His latest
project, 6Estates, specialises in digital ethnography, which studies our
culture through data and social media analytics to gain insight and to better
predict market behaviour.
One can only guess that this
is only the start of many more related ventures and developments down the road.
As a councillor of the Singapore Infocomm Technology Federation and Co-chairman
of its 123Jumpstart program, Yuen is in a good position to share his passion
and spread the entrepreneurship bug.
The Serial Entrepreneur #2 – Eddie
Chau (Neeuro)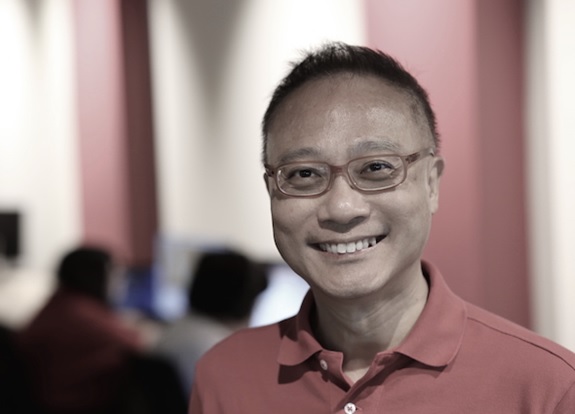 If you've watched the
recently concluded second season of Start-UP, Channel NewsAsia's reality TV
series on young budding entrepreneurs, you'd recognise Eddie Chau as one of the
three venture capitalists-cum-judges on the show. Then again, Chau is one of few serial entrepreneurs that need no
introduction
in the startup scene. In addition to his
portfolio of success stories, Chau is also a founding partner of TNF Ventures,
a startup incubator that's in the business of grooming and nurturing the best
and most promising startups. It should not surprise you
then that he is a highly sought after as a mentor.
Like Roger Yuen, Chau is 'habitual'
entrepreneur, and the two co-founded e-Cop and worked together on Brandtology.
e-Cop became a leading Managed Security Services Provider and was acquired in
2007 by a wholly owned subsidiary of Temasek Holdings. Similarly,
Brandtology made its name providing Business and Brand online intelligence
services and Media Monitors bought a majority stake in 2011, before fully
acquiring it in 2014 (as iSentia).
In 2011, Chau also
co-founded V-Key, a security company that specialises in solutions for mobile
platforms. Another potential success story, the company last year attracted a combined US$12 million investment from Ant Financial Services
(the operating company of Alipay, China's largest third-party online payment
services company) along with IPV Capital.
But time has proven that
Chau is not one to sit back and twiddle his thumbs. Even as V-Key was getting
its feet wet, Chau dove into a new venture in 2013 ­– Neeuro. Chau started Neeuro
with co-founder Dr Alvin Chan after realising that there is a need for products
to help develop and maintain the general health of the brain, regardless of
age. These products utilise advanced sensors and creative games to train your
brain's cognitive functions (consequently, to monitor it) and keeps it healthy.
Chau's extensive experience
in the startup business as well as his almost midas-like touch is hard to come
by and exemplifies some of the key skills required to succeed in a tough
environment – the ability to sniff out raw potential and the canniness turn it
into a profitable venture.
Entrepreneurship in the Blood – Darius Cheung (99.co)
You know you're on to something
when Facebook co-founder Eduardo Saverin takes an interest in your venture. But
for young serial entrepreneur Darius Cheung, an alumnus of the NUS Overseas
Colleges (NOC) that has churned its fair share of success stories, it's pretty
much just another day in the office.
Cheung's first significant
entrepreneurial foray saw the formation of tenCube and the creation of its star
product, WaveSecure, back in 2005. A security product, WaveSecure lets users
track their misplaced phones, lock them, back up data, and even erase
information on them. In 2010 the company was acquired by software security
giants McAfee for an undisclosed sum, with estimates ranging from US$5 million
to as much as US$25 million.
Regardless, you can always
count on Cheung to be back for more, and he has since co-founded BillPin, a
shared expense-tracking service for mobile platforms, and more recently, 99.co.
His latest venture is an online home rental and resale portal that unlike the
competition at the time, eschews paid classifieds and promises a pure, user-focused
experience to take the pain out of searching for rental or resale homes. The
idea clearly held plenty of promise, as it soon attracted investment from many
notable investors, including Saverin and Sequoia Capital.
Cheung, much like Roger Yuen
and Eddie Chau, has entrepreneurship in the blood, and it's a bug that stays for
life.
Hard work pays off big time – Wu Wenxiang, Kwok Yang Bin, Lim Qing Ru, Royston Tay (Zopim)
We started on a sentimental
note and we'll end on that as well with the tale of Zopim and its founders. Zopim
is a highly successful live customer support chat software that also has a
heartwarming backstory, and it's the closest you can get to a rags-to-riches
story for a local tech startup.
Formed by alumni of the NUS
Overseas Colleges (NOC) programme, the team had humble beginnings. They raised
less than S$400,000 during its founding back in 2008, which made its eventual
acquisition by Zendesk in a deal worth up to US$29.8 million in cash and stock,
all the more impressive. It also made them the sixth start-up formed by NOC alumni
to be acquired.
Zopim's initial struggles were
well-documented. The team had to live on S$500 monthly stipends while putting
in ungodly long shifts of work for two years – a stern test of their
persistence and durability that thankfully paid off handsomely.
The light at the end of a
long tunnel came serendipitously; Zopim had reached a point where it had no choice but to charge for its services, which
had since been free. Fortunately their customers liked the product enough to pay for it readily, and in a spectacular reversal of fortune, they turned profitable within a year. And with the
acquisition, the team became instant millionaires.
Today, the company continues
to grow, and recently Facebook announced that Zopim will be powering its
Businesses on Messenger feature. Zopim also has since launched Zopim Premium,
the most advanced version of its live chat software that features real-time
monitoring of key metrics, enabling teams to make immediate improvements.
Entrepreneurship doesn't
promise success; it guarantees that back-breaking hard work and sacrifice is a
must to even stand a chance. Zopim's story serves as a gentle reminder that
while the startup life isn't for the weak of heart, the promise of
the rewards that success brings will make it all worthwhile.
Technology is a great
equaliser, and there's no better demonstration of that fact than from the
modern tech startup. Our featured entrepreneurs form the perfect allegory of
what Singapore can achieve in a tech-driven future with the right product, some know-how, and a generous serving of elbow
grease.
By Justin Choo / June 09, 2015 12:50PM GMT+8
Disclaimer: The above images and trademarks are the sole and exclusive properties of their respective owners and are reproduced herein for the purpose of fair criticism and review.