Brilliant start-ups from across the region are here at
Tech in Asia Singapore 2015 to flaunt their stuff

Parents, rejoice! We all know that it is a
critical time now for your child as the midterms are just around the corner. At
Tech in Asia Singapore 2015, we have discovered a brand new Singaporean start-up that is
here to tuition your child while giving you detailed information on your
child's progress. For those who are not parents, well there are other start-ups
like Nice and that will definitely tickle your fancy!
Tutate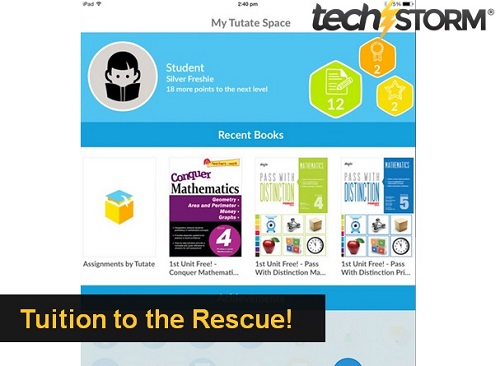 An interactive app (only for Apple iOs) and
web-based application that helps tutor your child from Singapore.
Tutate's main goal is to create a wholesome
holistic experience for tutor, child and parent by tapping on the use of
technology. Assignment books are bought, completed by the tutee and marked by
an assigned tutor all through this app. MCQ and short answer questions are
instantaneously marked while long answer questions are marked within a 24 hour
window. In addition to that, parents are able to see the progress the child has
made in a graph and the child will get reminders from the tutor regarding
uncompleted assignments. Sadly, Tutate currently only has content that is focused on Singapore's education curriculum. However, do keep a look out for them as they are set to
expand their operations and go global within the year.
Nice
Nice is a 3-in-1 Chinese-based app combines
Facebook, Instagram and Pinterest! Although this is a Chinese-based start-up,
it has really taken off as they now have users from around the world and not
just from China. You might think that this looks exactly like Instagram, but
here is where you are wrong – this is Instagram on massive steroids. With Nice,
instead of only being able to tag people in the picture, you also tag a picture
based on location, item, brand or even activity. With the tags, you are now
able to search and connect with likeminded users with the Discover page. In addition,
you are also able to chat with new friends or keep in contact with them through
Nice making this a very interactive app. Nice is available on Android and Apple
– So go on be nice, give Nice a try!
Take
Me Tour

Fancy a free and easy family vacation with
the option of participating in tours? Well, if you are thinking of heading to Thailand,
you are in luck. Thai-based start-up Take Me Tour engages screened and reliable
local experts to take you around the country at a really reasonable price. This
could be a half day or full day tour where you can experience Thailand like a
local. From experiencing the local martial art of Thai Boxing at a traditional
gym to visiting villages out of Bangkok, there is a specially curated tour for
anyone!
About
Tech in Asia Singapore 2015
If you have not heard of Tech in Asia, it
is a tri-annual conference is held in Singapore, Japan and Indonesia which
gathers the brightest minds and product-ready start-ups that were conceived in
the region.
Start-ups
featured here are seen or discovered at Tech in Asia Singapore 2015 (6th
to 7th May).
By Geralyne Kaye Ong / May 6, 2015 4:30PM
GMT+8
Disclaimer: The above images and trademarks
are the sole and exclusive properties of their respective owners and are
reproduced herein for the purpose of fair criticism and review.