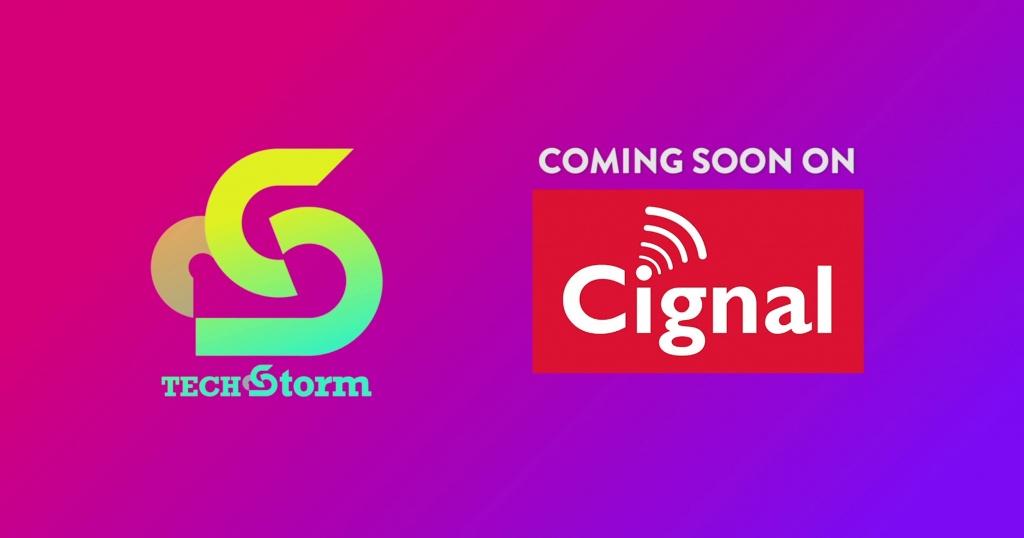 Manila/ Singapore, 19 March 2021 – TechStorm, Asia's fastest growing esports, gaming & tech entertainment network announced that it will expand its footprint on Philippines' premier Direct-to-Home (DTH) platform partner Cignal, coming soon in April 2021.
This came hot off the heels of TechStorm's recent milestone announcement of surpassing 100 major leading platform partners in nine countries at lighting speed of less than 22 months. The new launch expanded TechStorm's current distribution partnership with Cignal, adding Cignal DTH on top of its OTT platform, Cignal Play. Now, Filipino audience will enjoy tech & esports entertainment on both Cignal Postpaid Plan and Prepaid Load and Cignal Play on Premium Pack.
"The launch of TechStorm came at a perfect timing as the Philippine market shot up in nationwide interest of esports, gaming and cutting-edge innovations amongst the youth segment and Filipino families across the board given that they are mostly at home due to the pandemic. We have expanded the distribution of TechStorm's premium, world class quality content on major esports tournaments, leagues, game reviews and inspiring stories of innovation and startups to our Cignal subscribers to show our commitment in offering not only the best entertainment experience but also introducing content that is fresh and innovative for our subscribers to enjoy.", says Guido R. Zaballero, FVP, Head of Marketing.
"We are exhilarated to work with the wonderful, trend-forward management and team at Cignal to bring TechStorm onto their crown jewel – the DTH platform. We are confident that our near-100% first and exclusive content on Asia's trending esports, newest and latest game reviews, behind-the-scenes true to life stories such as E-Sports Revolution that unveils the inner workings of this exciting esports space, will bring delight and a huge wow factor to our beloved Filipino subscribers and their families. This expansion is well timed with our new pop culture branding which will resonate perfectly with the youth and young at heart. Cignal subscribers will enjoy real life lessons that come from the billion-makers on Meet The Drapers, a reality investment pitch series with American billionaire investor Timothy Draper that shows how entrepreneurs cope with COVID-19 as part of their startup journey and so much more. I would like to say a warm welcome to all Cignal DTH subscribers tuning in to TechStorm channel this coming April!", says Debbie Lee, TechStorm Founder & CEO.
Tailored for the whole family, viewers can also catch award-winning shows such as The Gadget Show and Innovation Nation, as well as hugely popular gaming tournaments such as Leagues of Legends ESL UK Premiership, DOTA 2 ESL, Counterstrike ESL One New York and game play reviews of critically-acclaimed Minecraft on the channel's dedicated esports time belt at 11pm, on Mondays to Fridays.
Catch these iconic shows on TechStorm, coming soon on Cignal.
TechStorm is already widely distributed as a basic entertainment offer on the region's leading, dominant platforms including: AIS PLAY Channel 251 and AIS PLAYBOX in Thailand, Dialog TV Channel 62 and MyDialog OTT in Sri Lanka, Singtel TV Channel 260 / Channel 18 and Singtel TV GO OTT in Singapore, Sirius TV Channel 10 in Malaysia, Dimsum Entertainment in Malaysia, Brunei and Singapore, First Media Channel 333 and FirstMediaX OTT, Telkomsel's MAXstream OTT, Genflix OTT and Telkom's IndiBOX OTT in Indonesia, 4gTV Channel 109 in Taiwan, Cellcard TV OTT, SingMeng TV Channel 251 and Splus mobile TV in Cambodia. Sky Cable Channel 212, Cablelink Channel 311, Cignal Play OTT and via Omnicontent Management Inc. across 85 leading MSOs and provincial cable systems in the Philippines.
###
About Cignal
Cignal TV was launched in 2009 and is currently the country's premier DTH satellite provider, with over 3 million subscribers. It is the leader in Pay TV in the Philippines with its nationwide coverage and availability. It transmits 134 channels including free-to-air, SD and HD channels to household and commercial venues in the country. It also offers a mix of 17 audio channels and on-demand service through pay-per-view channels and content add-ons. Cignal is owned by Cignal TV, a subsidiary of MediaQuest Holdings, the media partner of PLDT Group. For more details, visit cignal.tv
About Cignal Play
Cignal Play is the video-on-demand and linear programming web platform and streaming app of Cignal TV, Inc. Cignal Play carries up to 60+ of the best channels in sports, news, lifestyle and entertainment, along with 300+ hours of movies and series. Cignal Play is available to Cignal Postpaid Subscribers and non-Cignal subscribers. Register for free on cignalplay.com Like and follow us on Facebook, Instagram, and Twitter for more details.
About TechStorm
TechStorm is Asia's fastest growing nextGen network that celebrates the region's rising stars in esports, and tech innovations; made available across 26 countries in Asia-Pacific. Its 24/7 nextGen network programmed in HD showcases a compelling line-up of the best in-class, first-run and high-quality exclusive entertainment targeting mass, spectator esports audience, millennial generation and families. TechStorm's distribution is multi-platform, across 100 platform partners with the region's biggest names in esports and tech on its rapidly growing network. Its Asian original content series Storm Bytes is distributed on mobile streaming across multi countries on multiple platforms across the world. TechStorm is available to more than 44 million viewers in Asia, and is currently distributed across 30 million mobile OTT subscribers and more than 3.9 million subscriber households.
For more information, visit: https://www.techstorm.tv/ and follow us on: