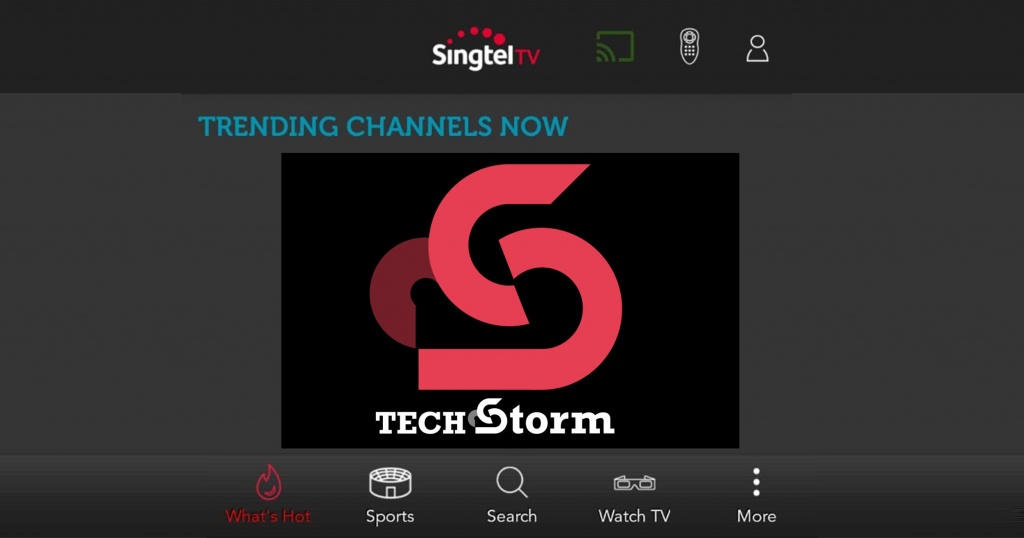 Singapore, 27 October 2020 –TechStorm (HD), the 360 international network on Asian Esports and tech-centric entertainment, has launched on Singtel TV and companion app Singtel TV GO. The channel is available to Singtel TV customers for a free view launch promotion. Subscribers of Starter (excluding mio Staduim+ pack), Trio, Value and Ultimate packs can enjoy an exciting and exclusive content line-up from TechStorm (HD) on Singtel TV channel 260.
The premium game and tech-centric content channel airs the world's first Esports reality series featuring FNATIC, one of the world's top 10 professional teams in Gamerz, and international game reviews for some of the world's most popular game titles like Fortnite, Counter Strike: Global Offensive, as well as popular award-winning programmes such as Shark Tank, The Gadget Show and Innovation Nation.
Pop culture hot favourites include exclusives such as Singapore rapper ShiGGa Shay's "是个谁", a first-of-its-kind interactive virtual live concert that uses mixed reality technology, with sneak peeks into behind-the-scenes about the making of the virtual live concert; adrenaline-pumping game competitions on Southeast Asia's top mobile game titles: Mobile Legends, Free Fire in First Warriors Talent Search and premier esports tournament First Warriors Championship 2020; and Storm Bytes, a TechStorm original magazine show with the latest from the tech and esports scene as well as interviews with tech startups and esports celebrities in Asia.
"We are incredibly thrilled to announce TechStorm's launch on Singtel TV to bring the exhilarating world of pop culture, esports and cool entertainment on the latest tech trends to more Singapore viewers. Singapore is a sophisticated market with a huge captive audience already in sync with esports, gaming trends, innovative development plus a robust, flourishing tech and start-up ecosystem. TechStorm is the only one-stop brand that offers a complete 360 entertainment experience that has already attracted an 18 to 34-year old core viewer segment across our footprint. We can't wait to unveil the exciting world of TechStorm to Singtel TV subscribers," says Debbie Lee, Founder & CEO of TechStorm.
Coming soon to TechStorm (Singtel TV CH 260 and Singtel TV GO), Modern Day Gladiators premieres 16 November, airing Mondays at 10pm (SGT), to explore the lives of Esports stars and find out what it takes to make it to the top of the leaderboards, and The Gadget Show debuts 9 November, airing Mon-Fri 8.30pm (SGT) to offer a glimpse of the latest tech from around the world, only on TechStorm.
With the channel's launch on Singtel TV and Singtel TV GO, more viewers in Singapore will be able to get their fix of Asian esports and tech-centric entertainment on TechStorm.
TechStorm is also available on AIS PLAY Channel 251, AIS PLAYBOX in Thailand, Dialog TV Channel 62 and MyDialog OTT in Sri Lanka, StarHub Channel 420 and StarHub TV+ OTT in Singapore, First Media Channel 333 and FirstMediaX OTT, Telkomsel's MAXstream OTT, and Genflix OTT in Indonesia, Cellcard TV OTT, SingMeng TV Channel 251 and Splus mobile TV in Cambodia. Sky Cable Channel 212, Cignal Play OTT and via Omnicontent Management Inc. across 83 leading MSOs and provincial cable systems in the Philippines.
About TechStorm
TechStorm is Asia's fastest growing nextGen network that celebrates the region's rising stars in esports, and tech innovations; made available across 26 countries in Asia Pacific. Its 24/7 nextGen network programmed in HD showcases a compelling line-up of the best in-class, first-run and high quality exclusive entertainment targeting mass, spectator esports audience, millennial generation and families. TechStorm's distribution is multi-platform, across more than 93 platform partners with the region's biggest names in esports and tech on its rapidly growing network. Its Asian original content series Storm Bytes is distributed on mobile streaming across multi countries on multiple platforms across the world. TechStorm reaches more than 43 million viewers in Asia, and is currently distributed across 28 million mobile OTT subscribers and more than 3.7 million subscriber households.
For more information: https://www.techstorm.tv/ and follow us on: