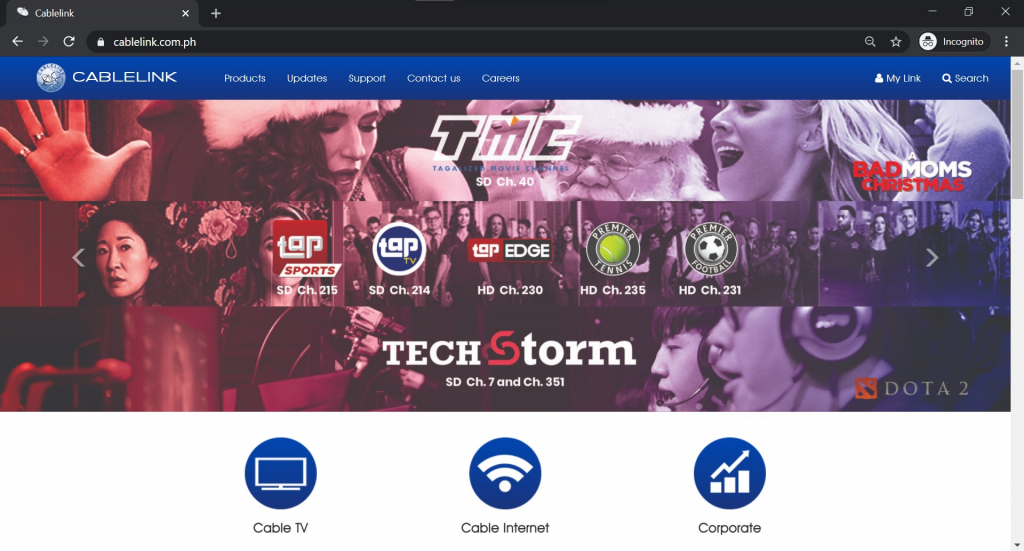 Manila/ Singapore, 29th December 2020 – Asia's fastest growing Esports and tech-centric entertainment channel TechStorm announces its extended launch on Cablelink in Philippines, followed close on the heels of the 24/7 network's breakthrough launch announcement in Taiwan on 4gTV.
TechStorm is immediately available to all Cablelink Basic Plus Subscribers. This launch marks the network's 98th distribution platform in barely 21 months at record speed.
Rhodalyn Clarete, AVP, Operations, Cablelink comments: "We're launching TechStorm at a perfect timing to bring its amazing repertoire of exclusive first-run, family friendly entertainment that strikes a chord with the Filipino families staying home during this festive period. Esports and gaming topics are rapidly gaining traction with the youth segment and we are incredibly pleased to work with TechStorm to better serve our subscribers' fast evolving interests. I will be eagerly waiting to catch the IESF Dota 2 regional tournaments and take a peek into the lair of the world's top professional team FaZe Clan in Modern Day Gladiators."
"Cablelink has been a great partner to work with and we're immensely excited to bring to their viewers, Emmy award-winning exclusive programmes like Shark Tank, Innovation Nation, and adrenaline-charged Esports reality series featuring top-notch gaming icons such as Fnatic in Gamerz and many others. Having these shows and our in-house original production Storm Bytes extended to subscribers on Cablelink's basic tier has come at a perfect timing to welcome the New Year", says Debbie Lee, Founder and CEO of TechStorm.
The region's fastest growing Esports and tech entertainment brand TechStorm is dedicated to bringing the best in-class thematic entertainment on Asia's hottest trending interest of Esports, gaming, innovation that truly resonates with the millennial generation in the pop culture era. Catch the new season of The Gadget Show premiering on 25th January, every Monday at 10pm, and the 12TH Esports World Championship: Dota 2 Regional Tournaments premiering on 27th January, Mondays to Fridays at 11pm on TechStorm channel number 351.
TechStorm is already widely distributed as a basic entertainment offer on the region's leading, dominant platforms including: AIS PLAY Channel 251 and AIS PLAYBOX in Thailand, Dialog TV Channel 62 and MyDialog OTT in Sri Lanka, StarHub Channel 420 and StarHub TV+ OTT, Singtel TV Channel 260/ Channel 18 and Singtel TV GO OTT in Singapore, Dimsum Entertainment in Malaysia, Brunei and Singapore, First Media Channel 333 and FirstMediaX OTT, Telkomsel's MAXstream OTT, Genflix OTT and Telkom's IndiBOX OTT in Indonesia, 4gTV OTT Channel 109 in Taiwan, Cellcard TV OTT, SingMeng TV Channel 251 and Splus mobile TV in Cambodia. Sky Cable Channel 212, Cignal Play OTT and via Omnicontent Management Inc. across 83 leading MSOs and provincial cable systems in the Philippines.
###
About TechStorm
TechStorm is Asia's fastest growing nextGen network that celebrates the region's rising stars in esports, and tech innovations; made available across 26 countries in Asia Pacific. Its 24/7 nextGen network programmed in HD showcases a compelling line-up of the best in-class, first-run and high-quality exclusive entertainment targeting mass, spectator esports audience, millennial generation and families. TechStorm's distribution is multi-platform, across 98 platform partners with the region's biggest names in esports and tech on its rapidly growing network. Its Asian original content series Storm Bytes is distributed on mobile streaming across multi countries on multiple platforms across the world. TechStorm reaches more than 43 million viewers in Asia, and is currently distributed across 29 million mobile OTT subscribers and more than 3.7 million subscriber households.
For more information: https://www.techstorm.tv/ and follow us on: