The annual Game Developers Conference kicks off this Monday in San Francisco and a poll before the event suggests the wider gaming industry isn't quite sold on NFTs just yet.
Out of 2,700 game developers polled for the Game Developers Conference's 2022 State of the Game Industry Report – only 28% said their studios were somewhat or very interested in NFTs, with the majority of game industry professionals saying that their companies were not interested in it.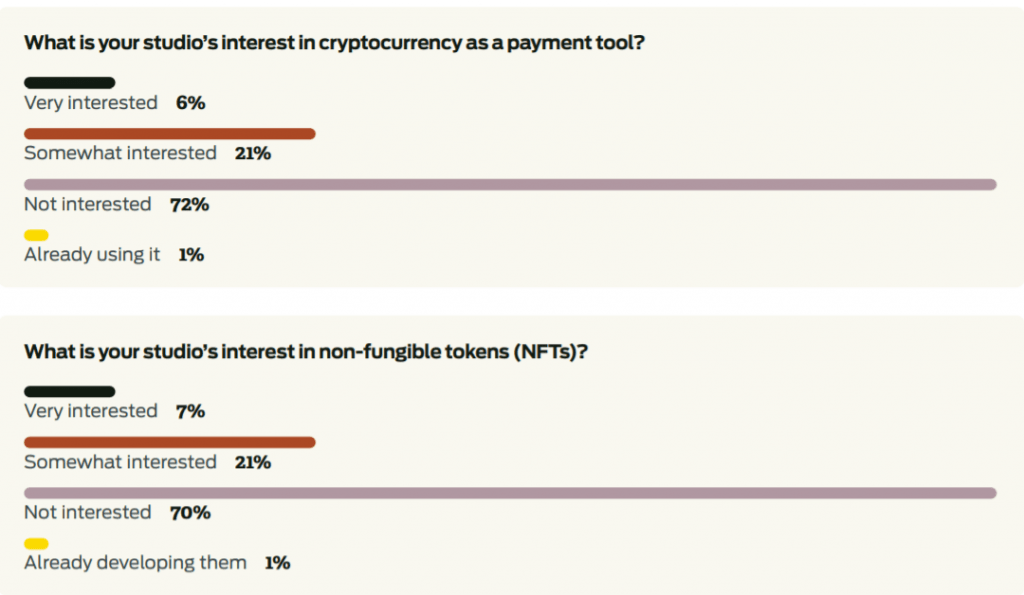 About a fourth of responders said their studios were interested in cryptocurrency – fractionally higher than interests in NFTs.
Some called it the "future of gaming" but generally, the responses were rather lukewarm.
When asked what were their thoughts on the use of cryptocurrency or NFTs in video games, some responders said:
"It's the wave of the future."
"How this hasn't been identified as a pyramid scheme is beyond me."
"Why do we need them? What benefit does it have putting these systems into our games? Who is using these things? It feels like a very small audience. And also, these technologies are still not using sustainable energy and are a target for money laundering. As a developer I feel deeply uncomfortable that there is a push for these. It feels entirely fueled by greed for more money because we read stories about crypto millionaires, when in reality all of it is extremely unstable and unethical."
"I personally am quite interested in NFTs and cryptocurrency, but many people in my studio and friend circle do not like them and won't develop for them. I think NFTs need to get a better reputation when it comes to [the] environment and art theft first, then it might be an interesting way to give digital content unique value."
"They're going to drive a wedge right in the heart of this industry. It's going to become really clear what folks' motivations are, and it's not going to be pretty."
EA Games – the studio behind games like FIFA and Sims – has become the latest company to backtrack on its commitment to NFTs – in its latest investor call on 1 February, Electronic Arts CEO Andrew Wilson was asked about NFTs and gave a rambling response which culminated in him saying, "right now, it's not something we;re driving hard on".
That's a pretty big step back from comments he made in November, when Wilson said NFTs were "än important part of the future of our industry".
But it doesn't mean developers have sworn off NFTs forever – earlier this year, Japanese gaming giant Konami sold off a bunch of NFTs for Castlevania's 35th anniversary, while Ubisoft became the first AAA studio to offer in-game NFTs for its game, Ghost Recon Breakpoint.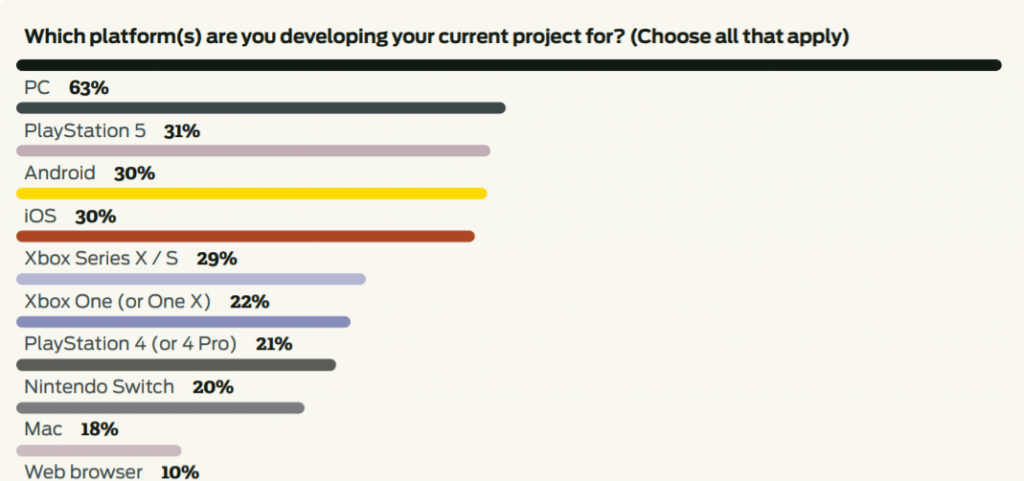 The survey also found PC was still the most popular platform for current games in development, with the PlayStation being the leading platform for consoles.
Mobile gaming, though, has plunged – the survey found that back in 2013, 55% of game developers were looking to develop mobile games. But that amount has since dropped to around 30% in 2022.
Can't wait to see how the survey will look next year.
The Game Developers Conference will kick off on 21 March in San Francisco.
*Featured image from OpenSea
By Samantha Chan \ 15:30pm, 17 March 2022