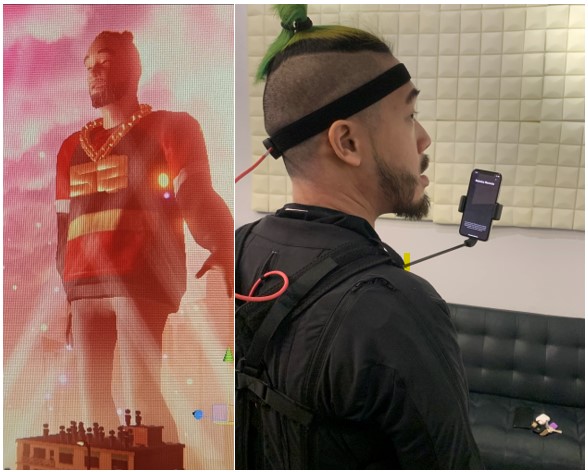 Singapore, 8th October 2020 – Be transported to a galactic Egyptian podium, then to Singapore's Central Business District, all the while interacting with a titan-sized ShiGGa Shay. That's what regional audiences can expect as this "first of its kind interactive virtual live concert" makes its debut to regional audiences on TechStorm as the exclusive Official Media Partner.
ShiGGa Shay "是个谁"first launched his EP 365 via a virtual live concert online. In this ground breaking first ever real-time interactive performance by the Asian rap singer, audiences will be transported to fantastical 360° environments in the digital realm where they can get up close and personal with Singapore rapper ShiGGa Shay, who appears as a digital avatar.
This hybrid "mixed reality" performance will now be made available to regional audiences with an exclusive deal with TechStorm, which is available in 26 countries.
The concert is scheduled to debut on TechStorm on 19 Oct, Mon 8:30pm (SG/MAL) | 7:30pm (JKT/BKK) | 6pm (SL).
This virtual concert is the first of its kind in Southeast Asia and serves ShiGGa Shay's new EP album launch. Built by the MRGE team using the Unity engine, the show was initially recorded as a livestream online where viewers are empowered as concert audience.
The audience will participate in co-creating the experience via the chat stream with their comments appearing onscreen in real time. ShiGGa Shay's body movements and facial expressions are captured via a motion capture suit and Apple iPhone's Face ID software.
Sharing his thoughts, ShiGGa Shay said, "Doing this virtual show really opened my mind up to what concerts in the future may look and feel like. It was a crazy experience. The timeline was extremely tight. The MRGE team and I only started working on this mid-August for a September livestream. Everything was completely live, from the movement of the avatar, to the effects happening in the environment and the audio portion of it. Shoutout to the MRGE team for pulling this off. And TechStorm for helping to get this show to their audience!"
"Our Gen Z and millennial audiences are constantly seeking novel ways of entertainment. TechStorm is the perfect platform that intersects coolest cutting edge tech trends with latest, hip rap music that trends well. This Official Media Partnership is a fabulous testimony of TechStorm's innovative ways that explores pop culture that coincides with our core audience' passions and interest. We're thrilled to bring more of such intriguing entertainment experience to delight our young audience segment aged 18 to 34 years, who actively watching TechStorm," said Debbie Lee, Founder & CEO of TechStorm.
TechStorm reaches more than 43 million viewers in Asia, and is currently distributed across 25 million mobile OTT subscribers and more than 3.3 million subscriber households. TechStorm is available on Dialog TV Channel 62 and MyDialog OTT in Sri Lanka, StarHub Channel 420 and StarHub TV+ OTT in Singapore, First Media Channel 333 and FirstMediaX OTT, Telkomsel's MAXstream OTT, and Genflix OTT in Indonesia, Cellcard TV OTT, SingMeng TV Channel 251 and Splus mobile TV in Cambodia. AIS TV Channel 251 and AIS PLAY OTT in Thailand. Sky Cable Channel 212, Cignal Play OTT and via Omnicontent Management Inc. across 66 leading MSOs and provincial cable systems in the Philippines.
###
About TechStorm
TechStorm is Asia's fastest growing nextGen network that celebrates the region's rising stars in esports, and tech innovations; made available across 26 countries in Asia Pacific. Its 24/7 nextGen network programmed in HD showcases a compelling line-up of the best in-class, first-run and high quality exclusive entertainment targeting mass, spectator esports audience, millennial generation and families. TechStorm's distribution is multi-platform, across more than 80 platform partners with the region's biggest names in esports and tech on its rapidly growing network. Its Asian original content series Storm Bytes is distributed on mobile streaming across multi countries on multiple platforms across the world. TechStorm reaches more than 43 million viewers in Asia, and is currently distributed across 25 million mobile OTT subscribers and more than 3.3 million subscriber households.
About ShiGGa Shay
Hip-hop star ShiGGa Shay is not just a rapper but a music producer and film-maker. Being a force to be reckoned with in Southeast Asia, he creates earworms through his storytelling gift of witty punchlines and distinctive melodies.
The 2019 international collaboration of 'DOMO' with Korean pioneer Trap producer Junior Chef, Malaysia's hottest rapper SonaOne and Japan's breakout hip-hop act JP The Wavy saw him gaining a whole new legion of fans across Asia. His breakthrough single 'LIMPEH' stayed No. 1 on the iTunes Singapore Charts for 3 weeks. Legendary Singaporean Mandopop singer Stefanie Sun has reached out to the rapper to collaborate on her 2015 single 'Simple Love'.
The hip-hop artist has opened for Hip-Hop legends Wu-Tang Clan in 2014 and pop culture provocateur Jaden Smith in 2019. In August 2016, he was invited to perform at the White House Afterparty for the State Dinner for Singapore in Washington DC, the United States.
For more information: https://www.techstorm.tv/ and follow us on: