Unhappiness has been brewing among Diablo Immortal fans recently, this time, over players who purchase illegal Eternal Orbs from third-party sellers.
Eternal Orbs are an in-game currency in the mobile game, which is free-to-play but heavy on the microtransactions.

Players can – and should, if you're going the microtransactions route – buy Eternal Orbs from the official Blizzard shop.
A bundle of 60 Orbs will set you back about US$1, while a larger purchase of US$25 could get you 1,500 Orbs.
But illegal Orb selling has proliferated in the game – a plethora of third-party sites offer them at much cheaper discounts, though as PcGamesN explains, such purchases are likely obtained by illegal means such as store glitches and possibly even stolen credit cards.

This has led to Blizzard cracking down on players who actually purchase illegal Orbs – they revoked such purchases en-masse, resulting in a negative balance for players who actually used them.
This was bad news for some whales, like a player named Shia, who was left with a negative Orb balance of 2.4 million – or about US$35,000 worth of Orbs on the Blizzard shop.
Those affected would have to repay their in-game debt by buying more Orbs from Blizzard, or else they won't be able to make further purchases or join in-game events.
Some affected players have appealed to Blizzard for clemency – which can be pretty ironic.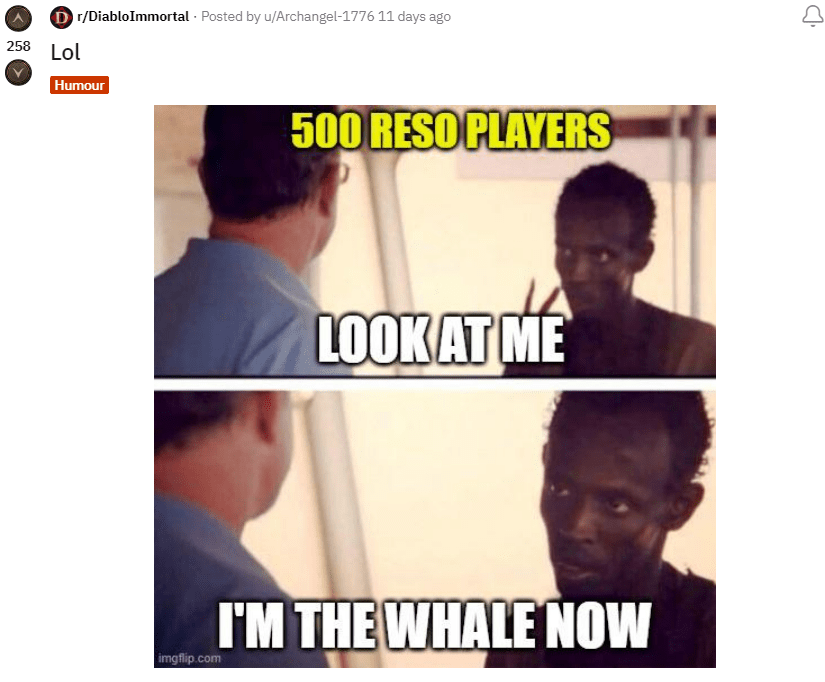 But fans want harsher sanctions – they want such players banned from the game totally.
However, according to this post on Reddit, Blizzard seems to be reluctant to drop the banhammer; a player had asked if players with negative Orbs would be banned, only for the Game Master to say no, only that certain restrictions would be placed on their accounts.
Redditors were understandably unhappy:
Why? Went one post, if I had known there would be no ban, I woulda just bought 3rd party. :/
It doesn't matter who is paying to win or who isn't. Said one redditor. It does MATTER who cheated or used deceptive services to get a discount on the paid aspects of the game that were not available to honest players.
Despite the drama, Diablo Immortal is still a very lucrative game for Blizzard; mobile analytics company Sensor Tower estimated the mobile version of the game hit US$100 million in global player spending in just eight weeks – that's an average of US$2.5 million a day.
*Featured image from Blizzard
By Samantha Chan \ 14:30, 13 September 2022