The battle between light and dark begins.
In a classic tale of good versus evil, Panda Punk 2169 introduces the Pandas, a high-evolved spacefaring race seeking intergalactic expansion while coming to terms with their morality.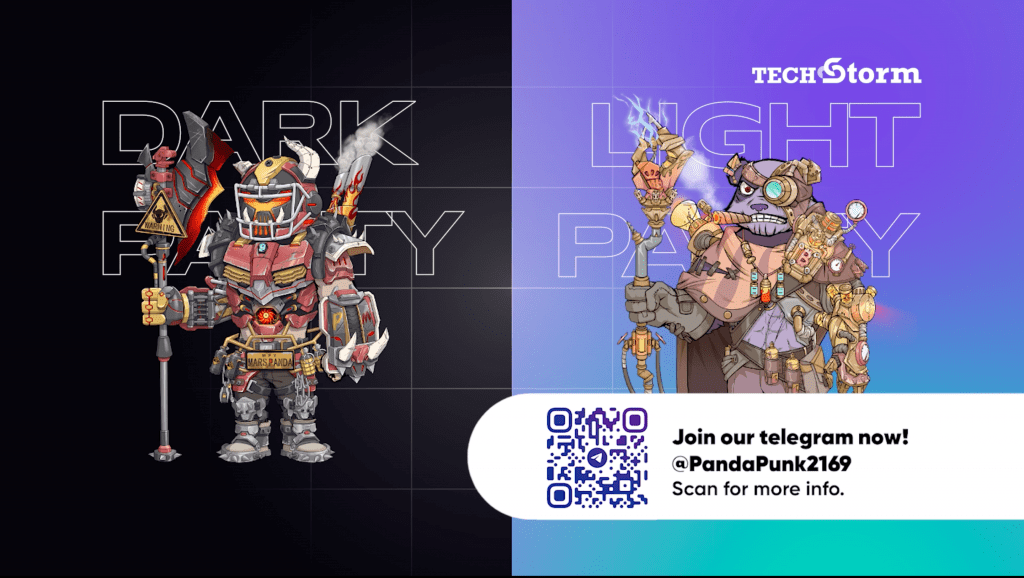 The Panda Punk 2169 NFT drop, in collaboration with TechStorm, brings us to Phase 1 of the Panda Punk story as the Pandas embark on their spacefaring journey to colonize Mars.
World War III broke out in 2023 and ended in a nuclear holocaust, leading to the collapse of human civilization and the eventual extinction of humanity. In spite of the nuclear winter that followed, a resilient species of Pandas underwent accelerated mutation and evolved into a sentient race. By 2035, these Pandas have become the dominant species on Earth. However, radioactive fallout and pollution has made the Earth inhospitable. As a result of their ingenuity and adaptability, the Pandas have now emerged as the rulers of the galaxy in year 2123 with advanced technology and flourishing interstellar trade.
Alas, division breaks out as the Pandas encounter deeper fissures between the Light and Dark Factions. The tussle between the two camps culminates in a crucial battle on Planet M87 in the galaxy of Sagittarius Alpha. So begins Panda Punk 2169…
A total of 8,888 Panda Punk 2169 NFTs will be minted on the Ethereum blockchain and these are categorised into Holy, Legendary, Epic and Rare mints.
Besides being the key to game access, Panda Punk 2169 are utility NFTs that are much more than just unique digital assets. Unlock different utilities and experience a rice multimedia experience at different phases of the Panda Punk GameFi Project!
Mint your Panda Punk 2169 NFTs and become the first batch of expeditionary warship captains that will shape the Panda Punk story in the centuries to come!
Join Panda Punk 2169's dedicated Telegram Group and Discord Group! Plus, hop on to the whitelist for free mints today (limited time offer)!
Stay Tuned To TechStorm…
#PandaPunk2169 holders can cast a vote for their favourite Asian esports teams or streamers to be featured in TechStorm's new TV series, 'Different League' – set to film in 2023!