The Dota Pro Circuit 2021/2022: Season 3 is underway in Southeast Asia as teams battle for a direct invite to The International 11, set to take place in Singapore later this year.
Valve said 20 teams will take part in TI11 – the top 12 teams from the pro-circuit leaderboard will see themselves sent to the event, while other teams will have to battle it out in regional qualifiers to fill the remaining slots.
In Southeast Asia, top teams like BOOM Esports, Fnatic and T1 are currently competing for the title of top dog, but competitors like Talon PH are close behind.
In fact, Talon PH opened the new season with a victory over Polaris on the first day of the event wrapping the game up in under 38 minutes, only for Polaris to bounce back in Game 2 taking a 35-18 kill.
But Talon PH steeled their resolve to win the decider, ending Game 3 in just over 30 minutes.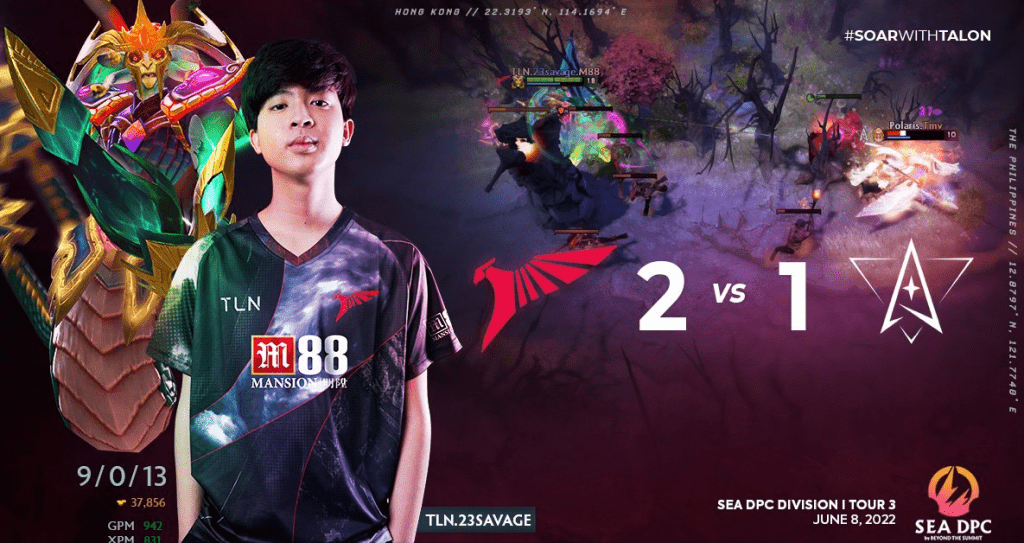 The team faced Nigma Galaxy SEA a week later, picking up Game 1 with ease before suffering an 81 minute loss to Nigma.
Still, they rallied enough to pick up Game 3 – securing their second series win in Tour 3.
And in Week 2 of the DPC SEA Tour III, they quickly wrapped up their game against Boom Esports with a 2-1 win.
Talon PH has more matches lined up for the month but all eyes will be on the match on 30 June with T1 – that's because Nuengnara "23Savage" Teeramahanon left T1 just months ago and now plays as a carry for Talon PH.
(This post is done in affiliation with Talon Esports.)
*Featured image from Talon Esports PH
By Samantha Chan \ 10:00, 21 June 2022