If you're a fan of NieR: Automata, you would have likely spent the last week searching futilely for what seemed to be a hidden door to an inaccessible church.
Nicknamed the Church saga, it all started when Reddit user u/sadfutago posted an innocent question in the Nier: Automata subreddit two months ago: "how to open the church in Nier Automata"?
At first some users pointed out that the action RPG didn't have a location that matched his description while others highlighted the fact that the game's most powerful mods could only alter textures, not create new spaces.
He eventually posted a short video of what he meant a month later, and this follow-up video a week ago – a move that essentially short-circuited the entire NieR: Automata fandom – and finally, this longer video.
The video showed a location in the Copied City, a level in the game devoid of colour or texture.
The player, as 2B, can be seen battling standard enemies before arriving at a secret door that leads them down a long ladder and twisting hallway.
2B is then seen entering a church, triggering a cutscene that showed off the building's interior, including a body on the altar.
The fandom received no help from the creators of the game – NieR: Automata's Creative Director and International Man of Mystery Yoko Taro gave a non-answer when asked directly about it and game producer Yosuke Saito joked that this was something Taro himself would do.
Well, in the end, it turned out that everything was an elaborate mod – the brainchild of three modders: DevolasRevenge, who designed the secret level, Woeful_Wolf who created the tools in Blender and RaiderB, who wrote the script.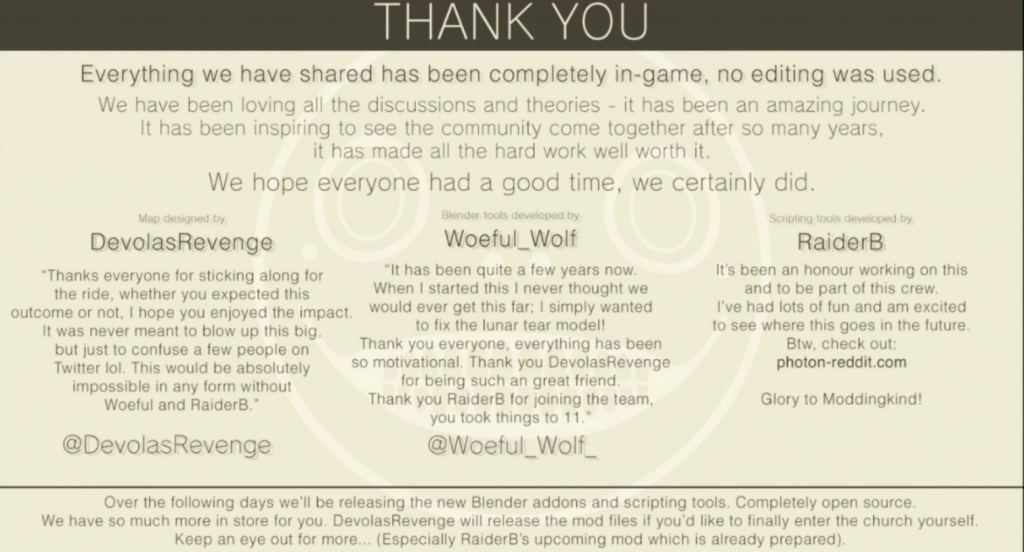 Kotaku spoke to DevolasRevenge who said it was originally meant to be a little joke, and that they fully expected data miners to find them out quickly.
In another interview with Gamesradar, DevolasRevenge said he wanted "sadfutago to appear innocent so that people wouldn't assume he's capable of making a map" and to seem ignorant to avoid suspicion.
Fans love a rabbit hole, especially in a game that allows for one – Nier: Automata has 26 game endings and features a double plot twist.
In fact, the "Final secret" in the game was only uncovered last year, four years after NieR: Automata was released.
*Featured image from PlatinumGames
By Samantha Chan \ 11:00, 2 August 2022